A B O U T H E N N A

H E N N A H I S T O R Y

H E N N A A F T E R C A R E

H E N N A S E R V I C E S

H E N N A G A L L E R Y

H E N N A G I F T

C O N T A C T

M A S S A G E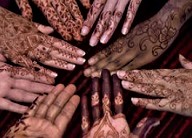 Enjoy a relaxing private henna session in-studio for yourself (or bring a friend or two).

In addition, consider having henna artist come to your next party or event and adorn your guests with mehndi. It's a great way to bond with friends and family. Afterwards they can be reminded of the fun gathering whenever they glance down at their henna design.

Great for events, such as:

Graduation Party
Ladies Night Out/In
Bachelorette Party
Sweet Sixteen
Birthday Party
Customer Appreciation Event
Moroccan Theme Party
Available only in Lake Geneva and surrounding areas.
$75 per hour (2-hour min) plus $20 outcall fee.

Call for availability and more information 262-515-7035.